HIRAMITSU GUITARS
Hiramitsu Yasunori and Hiramitsu Guitarworks Story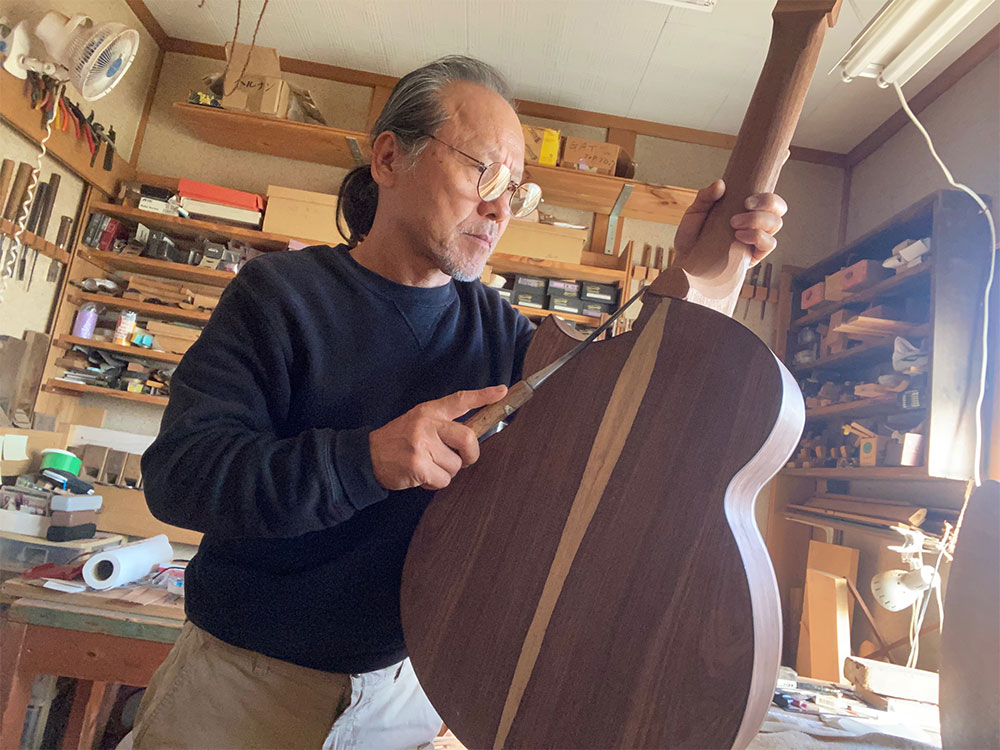 Luthier Yasunori Hiramitsu (Aichi, Japan)
Studied under Kazuo Ichiyanagi, a classical guitar luthier, and found his own potential in the world of acoustic guitars, becoming independent as Hiramitsu Guitars in 1998.
He has continued to produce acoustic guitars with a focus on tone quality, utilizing the techniques he has cultivated through his classical guitar-making experience.
Characteristics of Hiramitsu Guitars
As long as a guitar is a "musical instrument," it must be concerned not only with acoustics but also with playability. Hiramitsu Guitar is always conscious of the fact that the guitar should be "easy to play" for the player, not to mention the pursuit of sound quality, and he makes guitars with various innovations in materials and techniques.
Isato Nakagawa, Momotaro Maruyama, Masahiro Ando (T-SQUARE), GIN and many other top Japanese professionals trust Hiramitsu Guitars.
The feedback from leading musicians is reflected and evolved in his products every day. The sound has a solid volume that exceeds the size of the body, a spacious and deep sound, and a sound image and sustain to overwhelm with beautiful overtones.
The thick, extended, core tone, with no loss of sound or thinness at high frets, is a characteristic of Hiramitsu Guitars, and has gained strong support from fingerstyle musicians.
Hiramitsu Guitarworks Story
In pursuit of uncompromising sound quality, Mr. Hiramitsu has been producing one guitar per month.
Meanwhile, orders from players attracted by the tone and sound quality continues to increase! Today, back orders have been snowballing, worth of 2-year production, and they are getting more year by year, making these guitars difficult to obtain. Under these circumstances where supply and demand are out of balance, in 2023, Hiramitsu launched a new series as Hiramitsu Guitarworks with the help of trusted skilled craftsmen who understand and sympathize with his guitar concept.
He has established a system that allows him to deliver his expertise in material selection, bracing shapes, and gluing, all of which are important in guitar making, to as many guitarists as possible.
The series also features Hiramitsu Guitar's signature "Wave" wood bevel design, which is both artistic and attention-grabbing.
Until now, Hiramitsu Guitar has been available only in Japanese market, but on the occasion of Hiramitsu Guitar's 25th anniversary, we are now able to introduce this new series to high-end guitar stores and guitarists around the world.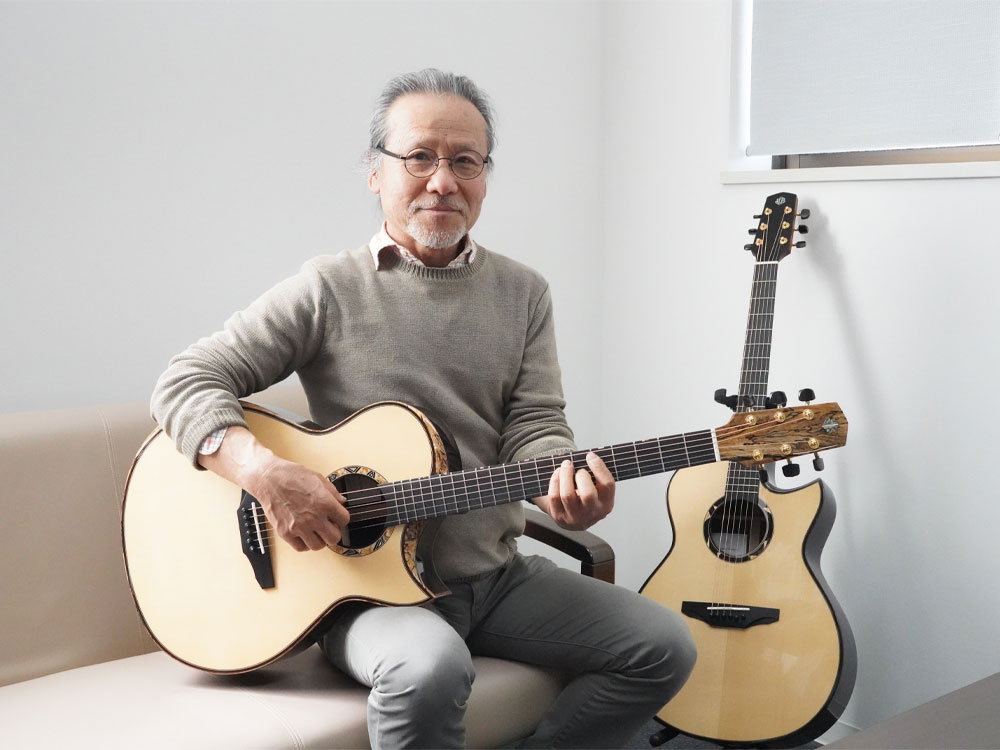 Together with the artist... what I desire
The ideal sound I seek is a deep, bright, lustrous, and stress-free sound. I am proud to say that I have come very close to this ideal with my life's experience, knowledge, and trial and error in guitar making.
And now, I am pursuing the importance of "expressiveness" in guitars. Many people talk a lot about sound, but professional players all seem to focus on the expressiveness of the guitar. The words they pick to describe the guitar vary, but in the end, they are talking about the expressiveness of the guitar.
I believe that the key word for the next generation of guitars will shift from "sound" to "expressiveness," and I am working diligently to create guitars that are rich in this "expressiveness.
HIRAMITSU GUITARS : https://www.hiramitsuguitars.jp/